Walhalla Goldfields Railway
Visit by the Deakin Melbourne Boomers!
On Tuesday 16 November the Deakin Melbourne Boomers visited Walhalla Goldfields Railway and had a fabulous time. Have a look at the video below – the Walhalla segment commences at 6:52 minute and watch out for our past President and now Mayor of Baw Baw Shire Michael Leaney.
WGR offers groups a marvellous experience call the office on 51656280 to organise something for your club, school or group.
I hope you visit us soon and have an enjoyable trip – don't forget to show your double vaccinated or exemption status to our staff.  Take Care
Phillip Milbourne
Flood Damage 10 June Disaster Day
Update on recovery works from the Walhalla Goldfields Railway President
We have now received engineering reports on all bridges and I am pleased to confirm that they are all rated 5 which is the highest rating. The rock under the concrete piers on bridges 1,2 and 3 has been restored. We still have some earth subsidence at Happy Creek that is also in hand.
The Engine Shed at Thomson has been cleaned out and the pit has been dug out and restored. A bob cat will be used to remove the mud from the 10 Class shed and the driveway behind Thomson Station will be graded and crushed rock will be laid. The driveway up to the engine sheds will also receive attention.
The Office of the National Rail Safety Regulator has provided us with a list of works which we hope to achieve over the next week or so. Once we have progressed these works we will have a better idea of the full cost of this disaster and a reopening date to announce.
If you would like to support us at this time, please hit the donation button above.
Urgent Help Needed for Exciting Projects
WGR is building a self-propelled Rail Motor at its Workshops.  This is an exciting and historic development as the first narrow gauge railmotor to operate in Victoria. The railmotor will enable WGR to provide daily train services, however more volunteers are needed:
We urgently need qualified volunteer tradespeople to help us complete this project. We need diesel mechanics, fitters and turners, welders, carpenters and general handy people.
No matter whether you are interested in Trains or not, volunteering with WGR is a great way to make friends and achieve something wonderful that will attract more visitors to Gippsland.
It doesn't stop there though -we have two diesel locomotives to restore, carriages to build, signals to install, new track work to set up and picnic areas to create.
If you are excited by these developments and would like to volunteer your skills, please contact the railway today and be part of a great team of people that care about progressing the railway and increasing opportunities for tourism in Gippsland.
That inner child that wants to Toot the train whistle is calling you to get on board.
kind regards
Phillip Milbourne – President
Book your journey online
Are you planning to visit to Walhalla?
Why not book your train tickets online and ensure you have time to take in the breathtaking scenery as you wind your way through the hillsides. Plan your journey with plenty of time so you arrive at a minimum 15 minutes prior to departure. Note fuel is not available in Walhalla, GPS of the area is inaccurate and unreliable and internet reception is not always available.
Please follow road maps and sign posts to Walhalla.
There is lots to do in Walhalla so why not stay for a few days?
The return train journey takes 1 hour and one way is approximately 20 minutes.
 

| | | |
| --- | --- | --- |
| Departing Walhalla | Departing Thomson | Arriving Walhalla |
| 11am | 11:40am | 12pm |
| 1pm | 1:40pm | 2pm |
| 3pm | 3:40pm | 4pm |
Ride in the Cab
Take time to enjoy your train ride in two ways, from the comfort of a carriage as well as from the footplate.
Riding 'Up Front' with the crew is a very special experience. See what they see – the amazing trackwork laid along the rocky ledges, dramatic cuttings, trestles bridges and add to this, the in-cab heat, noise and smells that is the workplace of the crew.
Enclosed shoes must be worn.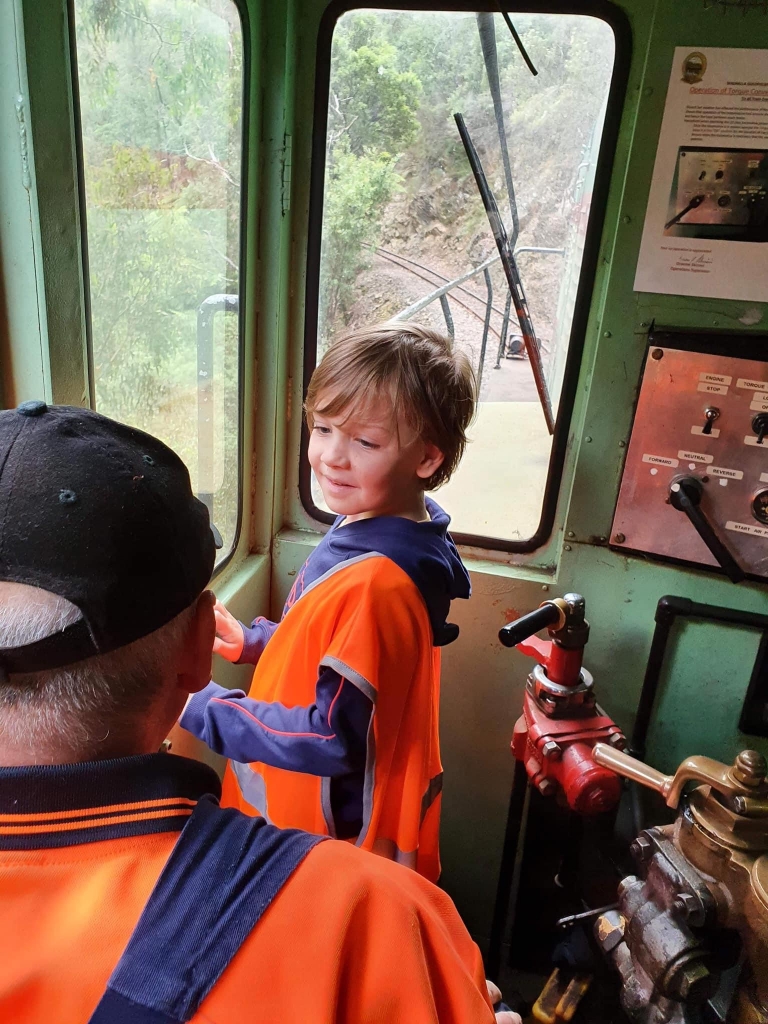 Driver for the day
Driving a loco on the Walhalla Goldfields Railway is an unforgettable experience. If you want to do something different, here it is!
Drive over trestle bridges, creeks and the Thomson River in beautiful bushland. On the footplate you'll also experience the in-cab heat, noise and smells that is the workplace of the crew.
No previous railway knowledge or experience required – we will teach you the basics. You need to be at least 18yrs of age and reasonably fit and healthy.
More information and see the video below to get a good look at how exiciting this experience is.
Journey on the Walhalla Goldfields Railway
The Walhalla Goldfields Railway is a not-for-profit group. The railway is operated and maintained by volunteers who give their time, effort and expertise so that everyone has the chance to enjoy one of the most spectacular rail journeys in Australia.
Take a train ride with Walhalla Goldfields Railway through the spectacular Stringers Creek Gorge. As you begin your journey and depart the historic Walhalla train station, you will travel through the original station yards which lie between Stringers Creek and the cliff-face that underpins the old Brunton's Bridge Road.
After the train leaves the engine and carriage sheds behind you, the first kilometre and a half is almost entirely built over six large trestle bridges that criss-cross Stringers Creek. The train then winds its way down hill and you will pass through Happy Creek to begin the second half of your journey.
Not long after, Stringers Creek joins the Thomson River and travels across the historic and spectacular Thomson River Bridge to arrive at Thomson Station. At this point, visitors disembark at the historic platform to allow the train crew to shunt all carriages into the yards and replace the loco to the front of the carriages for your return passage. Thomson station is always open to allow visitors to relax and explore the refreshment rooms before reboarding.
No matter what time of year you choose to travel, there is always something special to see and do on one of Australia's most spectacular railway journeys. In spring and summer, ferns and wild flowers are prevalent throughout the gorge. Catch the breathtaking beauty of the autumn trees in April when they appear to light up sections of the valley. Then in the winter, Stringers Creek comes to life with increased water flows which spill over the attractive rocks and gullies to form many stunning waterfalls.
Make a ride on the Walhalla Goldfields Railway your next adventure – for a day out you will always remember.
To make a tax deductible donation to our railway please go to this site.
Virtual Tour
Like to take an armchair ride down our track?
This virtual tour is perfect for those interstate or overseas who are planning their trip and would like to see some of what the
Walhalla Goldfields Railway can offer.
Thanks to Dan & Eloisa at Nanoo Nanoo, for making this possible.
Drone Tour
Here is some wonderful drone tour of our railway.
Thanks to @alexs_train_channel, for the footage.
Want to ask a question?
Get in touch with Walhalla Goldfields Railway team today… Have you got a question about a journey you want to book, a question about what you will see or simply want to know more about the trains we use? Drop us an email and we'll reply as soon as possible.
`
`03`

` 5165 6280

Don't hesitate to Contact Us
office

@walhallarail.com.au

Don't hesitate to Contact Us
Station

Address

Walhalla Station,
2 Main Road,
Walhalla 3825
Subscribe to Walhalla Goldfields Railway to stay up to date with all the news on the tracks.
Help support the Walhalla Goldfields Railway. Click the link on the right to find out more…