A brief history
Beginning construction in June 1904 the Moe to Walhalla railway was one of only four experimental 2'6"narrow gauge railways built by the Victorian Government. Despite the extremely difficult and at times almost insurmountable mountainous terrain of the district, construction was finally completed by May 1910 – with train travel reaching its destination of Walhalla at a time of the town's gradual decline.
By the 1920s, when the world was celebrating the 'roaring twenties' of opulence and festivity, the much touted premier mining town had slowed to near extinction with the closure of the Long Tunnel Extended Goldmine in 1911 and its other record-breaking goldmine, the Long Tunnel, in 1914.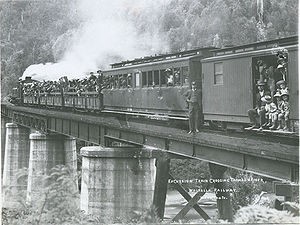 In 1944 the rail service to Walhalla ceased operating beyond Platina (a small area consisting of a passenger shed and a number of sidings) and in June, 1954, with only one mixed train operating to Erica each week, the line from Moe finally closed. In 1956 the line was pulled up and ceased to exist, except within the memories of many who had witnessed its operations and in the dreams of some who would like to see it operate again.
Over time a number of attempts were made to restore the line, with varying degrees of success, as all that remained were some derelict and rotting wooden bridges on the right of way. In 1991, the Walhalla Railway Taskforce was formed
with the aim of restoring the line from Erica to Walhalla. This became what we now know as the Walhalla Goldfields Railway, Inc. and in 1993 restoration began with the rebuilding of Thomson Station and its accompanying yard.
The railway commenced operations in April, 1994 by simply running up and down the Thomson Station yard until the line progressed – at first over the Thomson River Bridge in May, 1994 and then to Leachville, over the Three Span Bridge, to Cascade Halt, to Happy Creek and finally (after the construction of the six railway bridges in the last kilometre) into the Walhalla Station yard for the opening of this section of the line on the 15th of March, 2002.
The Walhalla Goldfields Railway now boasts an fully operational line of 4kms, thanks to the tireless efforts of volunteers and railway buffs determined to see it reopened, and has been operating ever since as one of Australia's most spectacular railway and tourism journeys.
Stay in touch to follow our progress and make Walhalla your next tourism destination.
Subscribe to Walhalla Goldfields Railway to stay up to date with all the news on the tracks.