Book your next journey
Thinking of travelling on one of Australia's most spectacular railway journeys?
Whether you visit with friends or family, perhaps take an international visitor to see the beauty of Gippsland, spend a birthday with us or bring your club or school group to enjoy a fabulous day out in Walhalla – climb aboard and book now.
The Walhalla Goldfields Railway is delighted to offer our visitors the chance to book online using our simple and streamlined BOOKING FORM.
Children's Tickets 3-16 years.
Booking links below
Mine Tour
Tours of the Long Tunnel Extended Mine are conducted every day of the year, except for Christmas Day. On weekends, Wednesdays, public holidays and school holidays they are scheduled for 12:00 noon; 1:30pm and 3:00pm. On all other days tours are conducted at 1:30pm only. Tour numbers are generally limited to around 20 people in order to ensure a more personal experience. Visitors should secure their place on a tour by booking using the online booking service as soon as possible. Booking link for mine tours.
Visitors must arrive at the Mine at least 15 minutes before the advertised tour time in order to guarantee inclusion. Group numbers are generally limited to around 20 people. General enquiries and bookings for groups of 12 or more can be made by phoning the Mine Office on 03-5165 6259 between 1:00pm and 2:30pm or by email to mine@walhallaboard.org.au.
Tickets are purchased at the Mine Office with card or phone being the preferred methods of payment.
Family 2 adults and up to 4 children – $60

Adults – $25

Children under the age of 16 – $20 (children under the age of 6 are free)

Seniors and concession card holders – $20

Group tours may be conducted by arrangement. Costs for groups of over 12 people are $15 per head.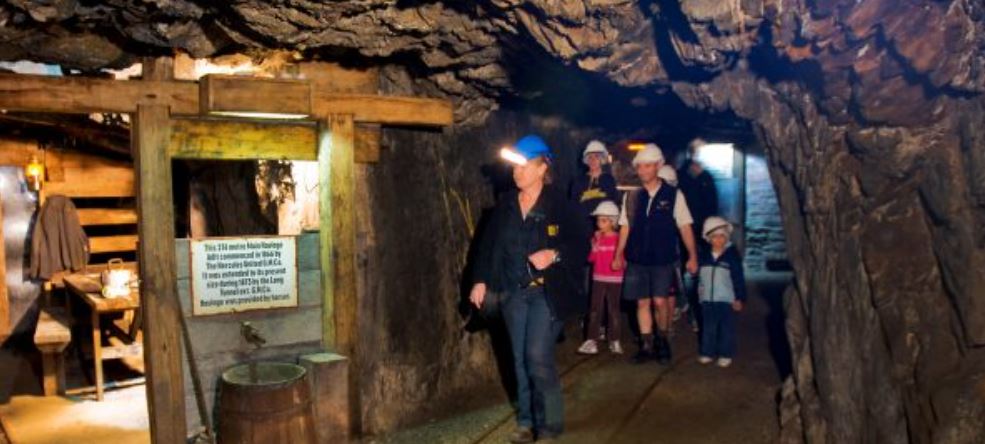 Groups and private charters
Our team at the Walhalla Goldfields Railway can offer you the private and exclusive use of this spectacular train journey on any of our days when scheduled trains are NOT running. No matter how many guests or corporate colleagues, our private charters start at a minimum of $900 for up to 78 passengers although more can be accommodated – just call us at the station and a team member will help you plan and organise your day.
We welcome all groups and parties and can tailor your trip and our services to suit.
Call the office on (03) 51 65 62 80 to check availability and to discuss details.
Kids Club
Next time you take a trip on the Walhalla Goldfields Railway, ask to join the KOOKABURRA KIDS CLUB (free to ALL children up to the age of 10 – no personal details held) and receive your FREE sticker. Look for them in our gullies and treetops along your train journey to Thomson Station.
Did you know Kookaburras usually eat small animals like mice, small birds, lizards and snakes, living in family groups around our mountain region? Young kookaburras help their parents to hunt and care for the smaller birds – they are best known for their loud call, which sounds a bit like laughter. Listen out and tell us how many you see or hear as a devoted Kookaburra Club member.
Accommodation and local information
The Walhalla & Mountain Rivers region is located on the southern edge of the Victorian Alps. Just over 2 hours to the east of Melbourne or 30 minutes north of the Latrobe Valley, the region is home to the towns of Erica, Rawson and Walhalla. It also includes the localities of Moondarra, Coopers Creek, Aberfeldy and the ski resort at Mt Baw Baw – Melbourne's closest ski resort. The region is blessed with natural beauty in the Baw Baw National Park, Tyers State Park, Moondarra State Park and state forest makes up nearly all of the area in addition to the towns. Walhalla Historic Township is the jewel, not only in our local area's crown, but also for Gippsland and Victoria.
Visit this site for more information: visit walhalla
More accommodation and general information is also available at this site: Walhalla Board of Management
Enjoy your trip?
Subscribe to Walhalla Goldfields Railway to stay up to date with all the news on the tracks.